Fr 18.12.
-1/3°

Sa 19.12.
1/3°

Su 20.12.
1/3°
Písek - Sightseeing
A stroll through the city
Large Square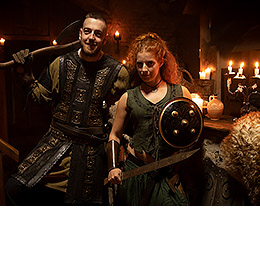 We'll start our tour of Písek at the main square, Velké náměstí (Large Square). Our attention is inevitably drawn to the northwest corner of the square, to the beautifully decorated façade of the Town Hall. This Late Baroque building, still serving as the city's administrative centre, was built from 1740 to 1765 and is the work of architects V. Jermář, A. Müller, and F. Fanner. From this representative two-storey building there are two towers that stand out, each of them bearing a clock on all four sides. Between the towers is a triangular tympanum bearing the city coat of arms. A bit higher, above the gables, we see decorated stone Baroque vases as well as statues of three figures – these are allegories of three virtues: Justice, Patience, and Strength. Looking at the Town Hall, one might never think that the building was originally fit with a pergola – this was removed in 1845.
On October 14, 1918, the independent Republic of Czechoslovakia was spontaneously announced from the balcony of the Town Hall, 14 days too soon. The whole thing was actually a mistake and the news was revoked the very same afternoon, much to the disappointment of the Písek inhabitants. A committee was named to investigate the incident, but the "culprits" received only very light punishment since freedom from Austria was already "in the air". When Austria-Hungary finally granted Czechoslovakia's independence on October 28, the people of Písek were hesitant to believe it. Ironically enough, the declaration was made in Písek a day late, on October 29, 1918.