Fr 18.12.
-1/3°

Sa 19.12.
1/3°

Su 20.12.
1/3°
Písek - Sightseeing
A stroll through the city
Aleš Square is connected to Velké náměstí via Jungmannova Street. In the past, this used to be a high-class residential area, so the wealthier Písek burgher residents enjoyed building their prestigious houses here. A few good examples are numbers 31 and 32, two Baroque houses built on earlier Gothic structures. The left one (No. 31, with the red façade) has kept its original arcade; the house next door used to have one as well. If you look closely, you can see a glassed niche between the four windows with a colourful statue of St. John of Nepomuk.
Church of the Exaltation of the Holy Cross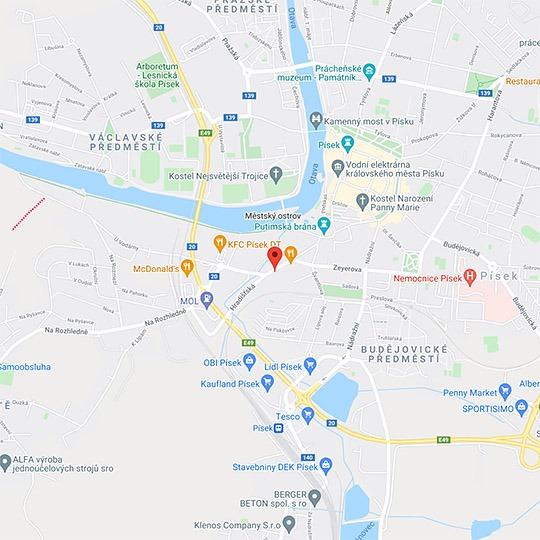 At the end of Jungmannova Street, on Velké náměstí itself, we reach the monastery Church of the Exaltation of the Holy Cross. The church faces the square to display its interesting Renaissance sgraffito decoration. The church is the only remaining structure of the monastery; the monastery was founded together with the town, but it was destroyed by the Hussites in 1419. It was renewed during the period of recatholization after the Battle on White Mountain, but the Josephinian reforms closed it for good. The church tower is very low and is topped by a simple pyramidal roof, holding two hanging bells from 1557 and 1673. There are two crypts beneath the church; one of them is the burial site for members of the monastery order while the other is the final resting place for members of the Švamberk family.
The route that this guidebook describes (the one you've just finished) has acquainted you with all the most interesting and important sites of the historical centre of Písek; we hope you've enjoyed a pleasant stroll as well. Your quest for knowledge can continue with a trip to the city's nearby surroundings, which also offer several interesting sites.