We 2.12.
-2/0°

Th 3.12.
-3/0°

Fr 4.12.
-2/4°
Písek - Sightseeing
A stroll through the city
Aleš Square (Alšovo náměstí)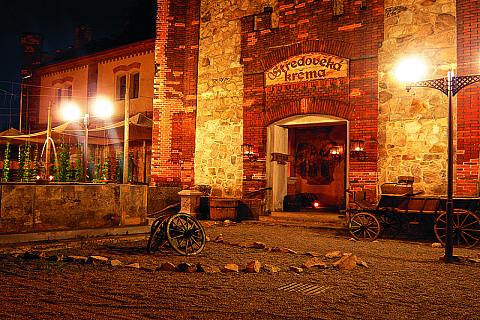 From the hotel, we continue down Chelčického Street slightly downhill, and we soon come to Aleš Square (Alšovo náměstí). It's also known as the "Small" square, and in Medieval times it was the main town square where markets were held. The first object that grabs our attention is the Marian Plague Column in the centre of the square. The column is from 1715 and is the work of the Plzeň sculptor Christian Widemann and Horažďovice mason František Zeber. It was erected as a symbol of gratitude for averting the last great plague that raged through Bohemia in 1715. In addition to the statue of the Virgin Mary at the peak of the column, there are also sculptures of nine other saints.
At the northern and farthest side of Aleš Square stands an original Gothic house No. 85 with its classical façade, decorated with stone vases. This is the site of the Municipal Library, founded in 1841 as one of the oldest libraries in Bohemia.
House No. 75 on the eastern (upper) side of the square, with its memorial plaque dedicated to J. A. Komenský (Comenius), is the oldest schoolhouse in Písek. It stands on the site of where the first Písek gymnasium originally stood.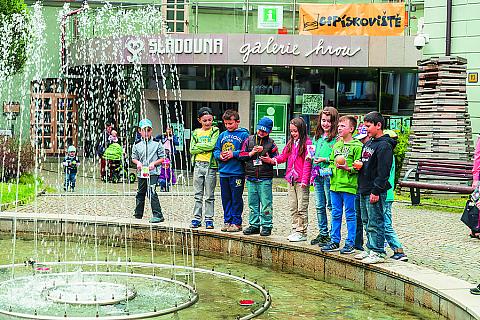 If we look back towards where we came from, we'll see the corner Neo-Renaissance building with a small tower in all its glory. This house, or rather palace, is named "U Černého orla", or the Black Eagle (No. 50). Today it serves as a pharmacy, but originally it was built as a showy headquarters by the local Civic Union in 1889-1890. The impressive sgraffito decorations on the façade display figural motives and are the work of renowned painter Adolf Liebscher (1857-1919); he also took part in decorating the National Theatre in Prague.